Add Your Heading Text Here
Digital Reads Reviews is a blog-haven for book posts and tech tips. This is a review of the thriller .
When a woman learns her abusive husband is dead, it's only the beginning of her nightmare, in this twisting psychological thriller.
Ellie managed to escape from husband Kayden's vicious abuse—and since learning from her mother-in-law that he's taken his own life, she'll never have to worry about him again.
But instead of relief, Ellie is now experiencing terror in the form of frightening phone calls, hostile strangers on the street, and what appears to be deliberate sabotage of her writing career.
Thinking she's spotted a reflection of Kayden's face only makes her wonder if she's having a breakdown…again.
With the help of a new man in her life, Ellie intends to head to Scotland and find out once and for all what is real and what is illusion—but the deeper her investigation goes, the darker the truth becomes…
A woman had escaped her abusive husband to start a new life for herself working in customer service along with writing a book, which was soon to be published by a digital publisher. 
Things started going downhill with hundreds of fake reviews on Goodreads, bad rating for her work, along with news about her husband's suicide which was soon followed by wicked sightings of him across the road, at her window, and being pushed into the pond.
Troubles followed her all through even interfering with her new office romance. 
The suspense in the story was interesting which gripped in most of the prose, as I was keen to know who could be behind all the attacks. 
There were a few hints of where the story would go which kept me guessing. So these were the things I liked.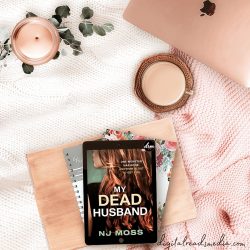 Extremely fast-paced, the book sped up with the roll out of every twist. 
The book had one of worst, most unlikable group of characters. Marital abuse was hinted and weaved well in the prose.
Child abuse and pedophilia and incest – I would have been okay with it if I had gotten a slight hint of abuse. There were certainly no Trigger Warnings which to me was so irresponsible of the author and publisher. I certainly wouldn't have read the book at night, plagued by nightmares in the darkness. 
The subplot of pedophilia was used twice and left me feeling icky. Revenge taken was so gross that I wanted to just escape the unnatural acts of a deviant mind. It was tough reading for me; it might not be for you. 
The writing was raw, the words chosen were crude. Sometimes the main character would fly into a temper. I used the swear words in my daily life, so that was not the problem, but the way the main character would spark out left a very bad taste in my mouth. 
But these were my experiences only, since I had become sensitive to some emotions due to the life losses of pandemic. You might just accept it as a great plot twist.  a
I love books that thrill me. This started as a great thriller but went beyond the normal psych-thriller into the absolute inhuman psyche with pitch blackness of the souls. That scared me completely. 
Publication Date: January 2022
I downloaded the digital version of the book from an online retail, and this is my journey down its pages, straight from the heart. STRICTLY HONEST and UNBIASED.
If you've loved the review, buy me a cuppa to perk me up.
Check out my other posts here
Follow my blog Digital Reads Reviews with just a click