Truth Of The Matter by Jamie Beck
Digital Reads Reviews is a blog-haven for book posts and tech tips. This is a review of a women's fiction,
Seventeen years ago, two pink stripes on a pregnancy test changed Anne Sullivan's life.
She abandoned her artistic ambitions, married her college sweetheart before graduation, and—like the mother she lost in childhood—devoted herself to her family.
To say she didn't see the divorce coming is an understatement.
Now, eager to distance herself from her ex and his lover, she moves with her troubled daughter, Katy, to the quaint bayside town of Potomac Point, where she spent her childhood summers.

But her fresh start stalls when the contractor renovating her grandparents' old house discovers a vintage recipe box containing hints about her beloved grandmother's hidden past.
Despite the need to move forward, Anne is drawn into exploring the mysterious clues about the woman she's always trusted.
Gram's dementia is making that harder, and the stakes intensify when Katy's anxieties take an alarming turn.
Amid the turmoil, uncovered secrets shatter past beliefs, forcing each woman to confront her deepest fears in order to save herself.
Truth of the Matter by author Jamie Beck was a beautiful story about a mother-daughter relationship and turmoils that went in rebuilding trust and a new life. Added to that was a grandmother whose secrets were hidden in a mind which was fogged by dementia.
Anne and Katy showed me what it took to start a new life in a new town, dealing with all the challenges that came with the change in circumstances. 
The book gave me pause, making me think about a mother's fierce love for her daughter, especially when she knew about the trials and pain that the daughter had to face in her every day life. 
A standalone in its story, I loved how the author dealt with the issues of life with its twists and turns in a realistic manner. 
The scenes of the book touched my heart, making the pages of the book fly. Jamie Beck's works somehow had the power to heal me.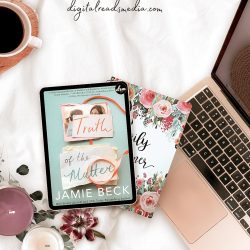 The story was complexed with nuances added to the characters in such a way that all of them felt real. Most of them I could identify with. 
There was a growth in them as they understood how one decision could affect everyone. I loved how they rallied for the health of their daughter and shoved their egos aside to help her. 
Anne as a mother expressed her feelings beautifully. I loved how she much she was willing to change if it meant that her daughter would thrive and be happy and healthy.
The writing held poignancy within its depths, where relationships were explored within a family. The words were welcoming, asking me to immerse myself in their lives.
Mental health issues were sensitively dealt with, where some things that we took for granted showed us how bad its consequences could be. 
Emotions shone in the prose, making me feel warm and cozy. Even if sometimes I despaired for the characters, I knew the author would end the book with hope. 
More emotions to pull my heart further in the book. I wanted my heart to be twisted so that I had a book hangover. But this was a small point, and I was just being greedy.
Captivating words that engaged my heart while showing me how life could become messy all of a sudden, yet hope could shine within the hearts of those affected. 
But that's what life is all about, isn't it?
I downloaded the digital version of the book from an online retail, and this is my journey down its pages, straight from the heart. STRICTLY HONEST and UNBIASED.
If you've loved the review, buy me a cuppa to perk me up.
Check out my other posts here
Follow my blog Digital Reads Reviews with just a click