Book Review - Waiting To Begin by Amanda Prowse
Digital Reads Review is a blog-haven for book posts and tech tips. This is a review of a contemporary woman's fiction.
1984. Bessie is a confident sixteen-year-old girl with the world at her feet, dreaming of what life will bring and what she'll bring to this life.
Then everything comes crashing down.
Her bright and trusting smile is lost, banished by shame—and a secret she'll carry with her for the rest of her life.

2021. The last thirty-seven years have not been easy for Bess.
At fifty-three she is visibly weary, and her marriage to Mario is in tatters.
Watching her son in newlywed bliss—the hope, the trust, the joy—Bess knows it is time to face her own demons, and try to save her relationship.
But she'll have to throw off the burden of shame if she is to honour that sixteen-year-old girl whose dreams lie frozen in time.

Can Bess face her past, finally come clean to Mario, and claim the love she has longed to fully experience all these years?
Waiting to begin by author Amanda Prowse was all about the consequences of the actions in teenage life leaving a mark on adulthood. 
Bessie was etched carefully over the years with the empty nest syndrome and introspection about her life, causing her to face her past. 
The Queen of emotions struck gold once again as she played with my heartstrings, making Bessie's life shine. The writing had the capacity to make me quiver with all those feelings, sometimes overwhelming me. All in a good way. 
How the past could shape the present and future was unfurled in the story by the secret that Bessie had kept hidden for 40 years.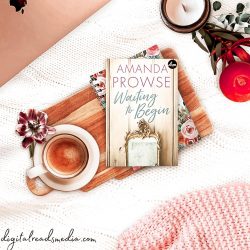 The flow of the story and the emotions captured in the words made a big book read fast. There was something so palpable about the words that they haunted me for a long time. 
Written in dual timelines, the book showed me Bessie's life and decisions taken by her. The characters were beautifully rounded and kept real. 
Nothing much. I felt too much could be said, as I had to take a break to calm the waves arisen in me. 
I am cover junkie, didn't really like the cover. It didn't call to me. 
A beautiful read, as per the norm, a heart-wrenching book. 
Publication Date: June 2021
I downloaded the digital version of the book from an online retail, and this is my journey down its pages, straight from the heart. STRICTLY HONEST and UNBIASED.
If you've loved the review, buy me a cuppa to perk me up.
Check out my other posts here
Follow my blog Digital Reads Reviews with just a click