An Honest Lie by Tarryn Fisher
Digital Reads Reviews is a blog-haven for book posts and tech tips. This is a review of a thriller.
"I'm going to kill her. You'd better come if you want to save her."

Lorraine—"Rainy"—lives at the top of Tiger Mountain. Remote, moody, cloistered in pine trees and fog, it's a sanctuary, a new life.
She can hide from the disturbing past she wants to forget.
 
If she's allowed to.

When Rainy reluctantly agrees to a girls' weekend in Vegas, she's prepared for an exhausting parade of shots and slot machines.
But after a wild night, her friend Braithe doesn't come back to the hotel room.

And then Rainy gets the text message, sent from Braithe's phone: someone has her.
But Rainy is who they really want, and Rainy knows why.

What follows is a twisted, shocking journey on the knife-edge of life and death.
If she wants to save Braithe—and herself—the only way is to step back into the past.
An Honest Lie by Tarry Fisher was supposedly a psychological thriller, going by what the blurb said. It was so not a suspense or a thriller. I didn't even know what the lie was at the end of the book. 
A woman Rainy whose past life within the cult was catching up with her when someone kidnapped her friend Braithe in order to get to her. 
Absolutely bored out of my wits. The beginning was so slow that I kept tapping on kindle to prod it on. 
I felt cheated as the blurb promised me a thriller when the so-called plot line didn't appear until the book reached 70%.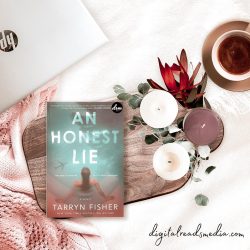 I wished I could say something nice about the storyline. But I abhorred books with a cult plot line. 
One could say, at a bare minimum, the final scenes were more fast paced. 
The cult plot line with the women and children getting abused was so done up. 
The Godly figure and his followers made me want to puke. This one wasn't done well too. The details felt to be missing.
The main character or her interaction with the band of girl friends were not at all interesting. Even the dialogues didn't feel snappy. 
Written in dual timelines, the book was more about the then and the now. Both were not interesting. And they were so sllooooowwww. Worse than a snail's pace. This was so not a thriller. 
Going by the reviews, I got the book. And I regret the money and time spent on it. It was so not fun. Predictable and I reiterate. Absolutely boring.
Publication Date: April 2022
I downloaded the digital version of the book from an online retail, and this is my journey down its pages, straight from the heart. STRICTLY HONEST and UNBIASED.
If you've loved the review, buy me a cuppa to perk me up.
Check out my other posts here
Follow my blog Digital Reads Reviews with just a click