Digital Reads Reviews is a blog-haven for book posts and tech tips. This is a review of a contemporary romantic fantasy.
A whisper of someone like her being born has been discussed for aeons by the gods.
The question is, who is she, and where is she?
Meara lives an ordinary life with her eccentric grandmother and three siblings in a small Georgian house in Dublin.
On her eighteenth birthday, her little sister is kidnapped by an incredibly powerful man, and her entire world turns upside down.
Long hidden family secrets tumble out, and supernatural beings suddenly surround her.
However, she thinks she is a side character, the hero's friend, and the heroine's sister.
After all, her nature is more girl-next-door than a tortured soul with ninja fighting skills.
Her only desire is to get her sister back and keep her safe.
But to do so, she must battle dangerous beings and reign in her treacherous heart which has begun to beat for her family's sworn enemy, a gorgeous demigod.
Kamaran came around and kidnapped 6-year-old Bree from her home. But big sister Meara was not having any of it. She was determined to save her and bring her back.
But the family relatives, whom she knew to be eccentric, suddenly turned out to be part of the supernatural world. And the real action began. 
Meara thought she was just a family-loving, cookie-baking heroine, but life and the author's pen revealed her to be more than she ever could have imagined. 
The book started awkward, but slowly I warmed up to the characters and found myself invested in the storyline. 
There were some good twists that caused my pulse to spike. 
The romance weaved in was sweet, and I cheered Meara as she traversed through her powers and found love.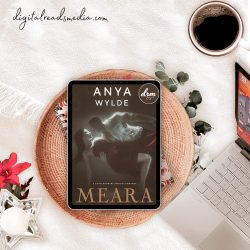 The writing was much better in the second half. The prose had the right amount of emotions within the action sequence as the characters found themselves more comfortable in the roles they had been slotted in. 
The worldbuilding was inclusive where the various Gods of all cultures were mixed together. I liked that. I hadn't read Indian words in the prose in any of the books this year.
The romance too warmed my heart bit by bit as enemies to lovers led to smoldering love story. 
The first one-third felt to be slightly off. The scenes were all present, but the dialogues needed to be stronger, giving better visual imagery.
Lots of things were thrown at the main characters in between rounds of cooking and baking. Sometimes it felt overwhelming.
I thought the plotline settled down once romance was written in. Maybe the author's forte was writing romance as those feelings brought out the real flavor of the story. 
A sweet read. I liked it. 
Publication Date: June 2022
I downloaded the digital version of the book from an online retail, and this is my journey down its pages, straight from the heart. STRICTLY HONEST and UNBIASED.
If you've loved the review, buy me a cuppa to perk me up.
Check out my other posts here
Follow my blog Digital Reads Reviews with just a click