Add Your Heading Text Here
Digital Reads Reviews is a blog-haven of book posts and reviews. This is a review of a suspenseful family drama, No One Saw It Coming.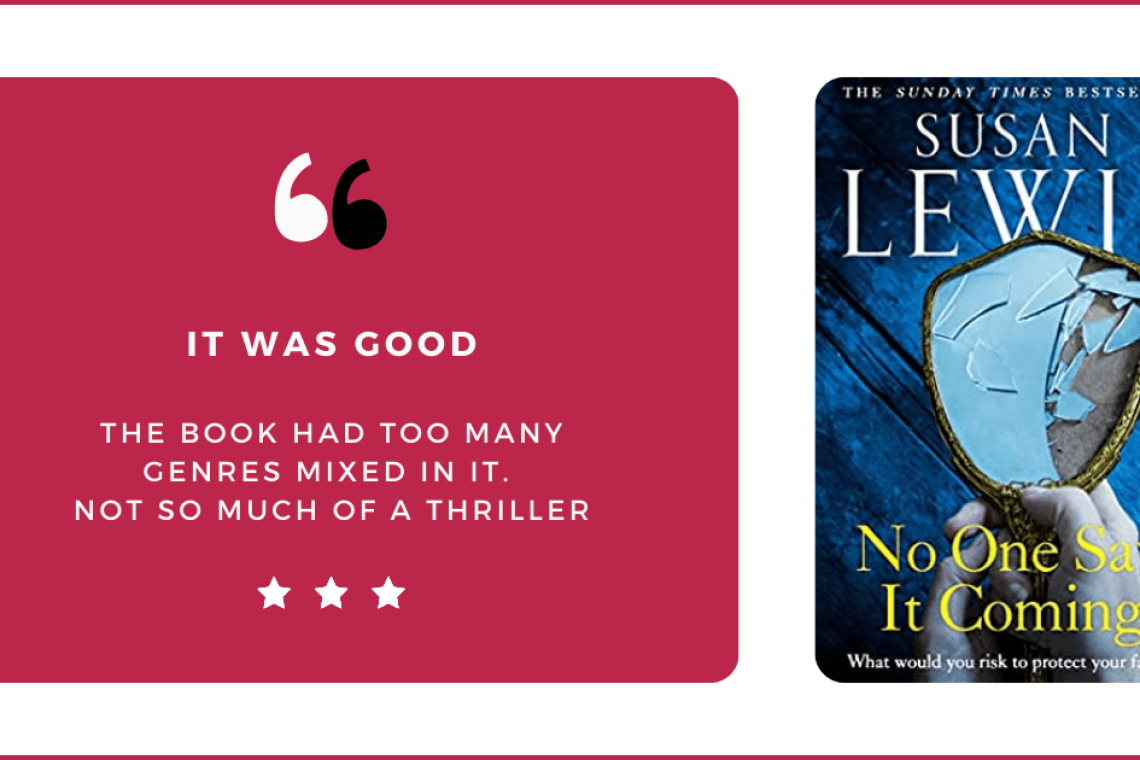 Secrets lie at the heart of every family…

When the unthinkable happens…

Hanna's world is crumbling.

An unimaginable crime has been committed, and everyone's looking for someone to blame. Her loved ones are under suspicion.

Now Hanna must work out who is threatening her family – before it's too late.

No one could have seen this coming…
No One Saw It Coming by Susan Lewis was one of my awaited books of January 2023. A murder mystery standalone, I have been a fan of this author since her first few books. So, I didn't wait long to get my hands on this book, got it right off the shelves, and started reading the same day. 
Flipping the pages, I realized this was not a pure genre but a potpourri of different themes. Suspenseful story with a murder in the midway of the book, with pages of psychological thriller thrown at the prose, along with loads of family drama. A lot. But family drama with a twist at the end was what the author used to be famous for. Since I dived into the pages expecting the drama, I relished the beginning quite a bit. 
The main character Hanna led a complex life, where a dash of risqué excitement was needed for her to feel the joie de vivre. Her family was everything to her, her children her pillars, even though she had a difficult relationship with her daughter, and her husband was everything to her. Her best friend. 
Until two catastrophes occurred, one was invited by her, and the other, shocking and unexpected.
A lot of scenes about her life were quite a revelation to me, until the story brought to light that someone was targeting her family. Now she had to gather her family together to face this hidden enemy. 
Trigger Warnings: Sexual content and attempted rape. Teen pregnancy. Subtle sexual coercion
The secrets hidden within the chapters made me keep going to the book in the initial few chapters. There were also chapters by an unknown character that made me go down different paths of where the author could have gone. 
The book was not centered on one plot arc, so I would say it started out being an exciting read. I felt this author's newer works had various themes that she was experimenting with. In one way, I had great expectations from this book, but it did have its faults. More about that later.
I didn't love any of them, nor did I hate them. They were complex, who were hiding many secrets close to their hearts, some of them quite deplorable, and that started affecting their relationships. I could say I understood them. Their emotions down the book became more believable. The author kept them real. 
Among all of them, who formed Hanna's family and close friends, there was one unknown character whose chapters were quite interesting as it was obvious that she would keep the readers guessing. 
The devastation of the characters post the catastrophe was believable. A couple of times, I really felt bad, and it made me think – how often did we not communicate with our loved ones over something that disturbed us until it was too late?
The technicalities of the plot line were gripping, as it was a whodunit at the core of the story. So I had a few suspects on my list. Shockers came about at the right time when the story was slightly lagging. 
The psychological thriller aspect of the subplot was easy to guess for me. I realized where that plot arc was going quite early on in the story. Just a few points were different from what the author had written.
If you have read quite a few dark psychological thrillers, it would be quite easy to guess the perp in this. This plotline had been done in a book or two, not in the usual psychological thrillers that came up every month. 
The second half, for me, was a letdown because it had the cops doing the investigation and suddenly someone else was doing the investigation and advising the cops. That felt a little off. 
I was happy for the family that they had this friend who did most of the detecting, but it also led me to wonder why all the cops were personalized to me. They could have just remained as general cops, rather than having their internal discussions shown to me. 
The ending was more like a family drama with all the open threads well-tied up. The book was a pretty average read for me by then. And it took me a few days to finish it. 
The atmosphere of the book switched from family drama to psychological thriller along with the backdrop of women's fiction. So, the theme of families coming together to support each other in times of adversity was maintained in the entire book. 
Most found the second half well-written. Contrary to them, I found the first half gripping, as the characters were pretty naughty and hyperemotional at times. In the second half, it lost its momentum as it was all about the final reveal. Since I had already guessed it, the book went slow for me.
The style of writing - The Prose
Despite all this, I liked the author's style of writing as she was trying something new, adding a dash of this and a pinch of that and trying to make it a compelling read. There was always a risk in doing so. Because then some readers might just fall away. 
I think I would continue reading this author since I have been a fan of her books for a long time. But I have to say, her older books were more interesting as compared to these newer ones. The twist in them really used to pull the rug from under my feet. 
Or maybe now I have become quite cunning now after reading so many thrillers. 
I liked the book, but didn't love it. It had too many genres mixed up, and there were a few subplots that left me detached. Probably because those were the things I wouldn't do in my life that the main characters indulged in. So, I leave the judgment to you.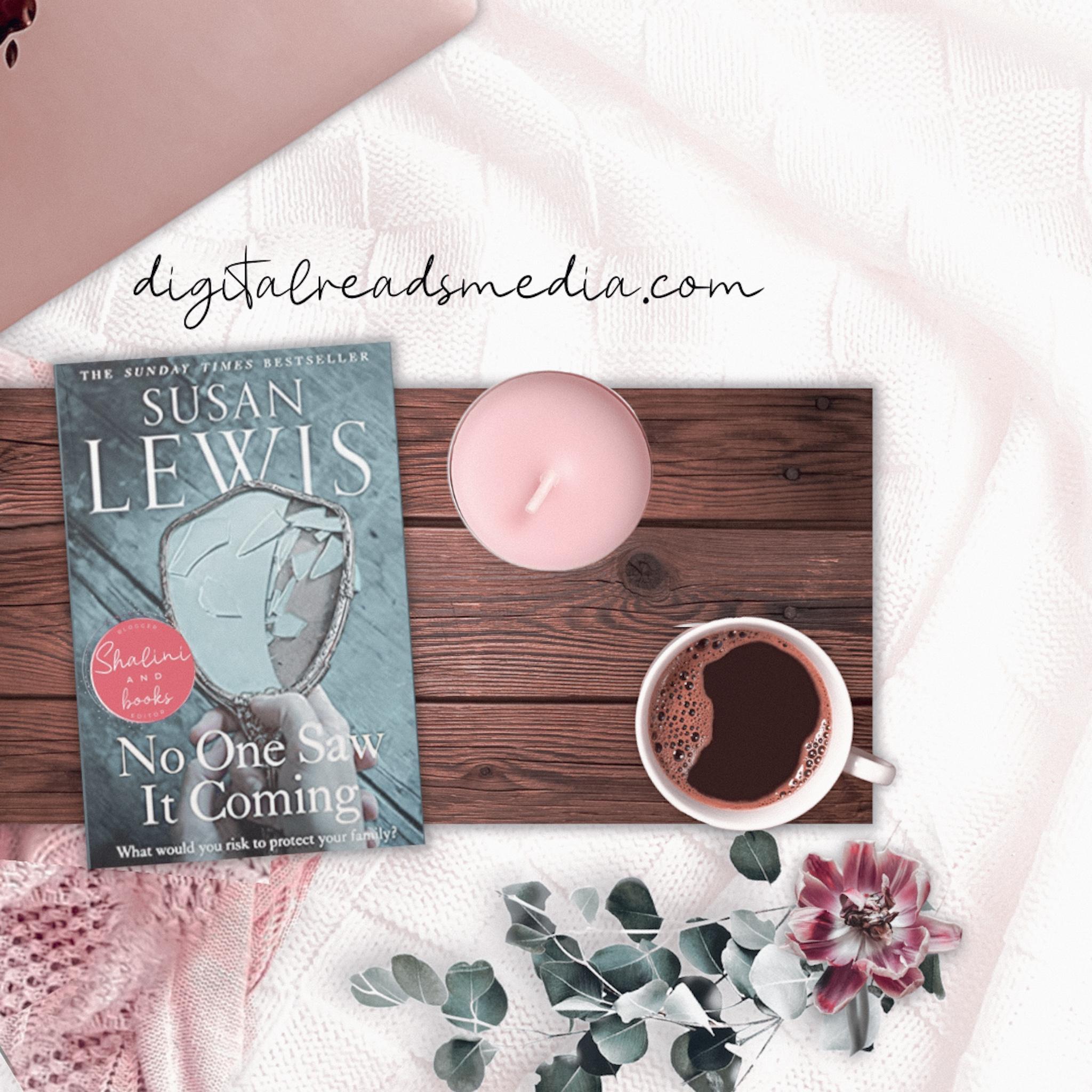 Do I recommend this book?
I would say read the book from your library or if you get it in a sale or from the thrift store. Getting the book was a waste for me, as I didn't think I would ever read it again. Luckily I could pass it on to my friend. 
But I have to add here that it has been quite some time since I read the book, but the scenes are still etched in my mind as I write this review. 
I got the paperback version of the book from an online retail, and this is my journey down its pages, straight from the heart. STRICTLY HONEST and UNBIASED.
If you've loved the review, buy me a cuppa to perk me up.
Check out my other posts here