Return to Blackwater House by Vikki Patis
Digital Reads Reviews is a blog-haven for book posts and tech tips. This is a review of a suspenseful thriller, Return to Blackwater House.
You can run from your past, but you can't escape it forever…

Rebecca Bray has moved on from a childhood she wants to forget.
She has the dream fiancé, a loving stepdaughter and a career she's proud of.

But with a move back to her hometown of Cornwall, everything she wanted to bury starts to surface.
And when her stepdaughter goes missing at a New Year's Eve party, Rebecca must finally face the ghosts of her past – or Ava might never come home safely…
Return to Blackwater House by Vikki Patis was one kickass thriller. 
Though a missing child arc, it was something different. You had to read it to believe it.
A new beginning in an old house was Rebecca's way to deal with life. A loving fiancé along with a great stepdaughter with whom she shared a bond stronger than most natural mothers made her life complete. 
Then Ava disappeared on New Year's Eve party. 
The still waters of this family started quivering, harkening the truth that it tried to hide. And each of those reveals were edge-of-the-seat explosive. 
I was so curious to know Rebecca's past that I had to keep turning the pages.
The many shocking truths that came to light gave me quite a start. Never expected them.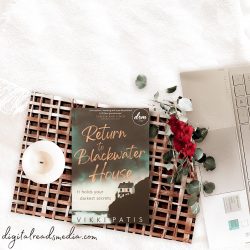 Mystery with suspense was well admixed, revealed to me in trickles of clues, the author had me quite enmeshed in the plot, immersed in the lives of the mother and daughter until I had to know the truth. 
A lot of socially relevant topics like child abuse and neglect along with subtle emotional and physical violence were weaved in well with the suspense. The book hit hard while keeping me gripped into it. 
Slightly slower than what I was used to, the book brought to light something that I had begun suspecting quite earlier on. 
The ending dragged on a bit for me. Though some would say the epilogue was needed. 
One of the best reads, the missing child plot arc was so much more than just that. 
Publication Date: May 2022
I downloaded the digital version of the book from an online retail, and this is my journey down its pages, straight from the heart. STRICTLY HONEST and UNBIASED.
If you've loved the review, buy me a cuppa to perk me up.
Check out my other posts here
Follow my blog Digital Reads Reviews with just a click