Things We Never Got Over by Lucy Score
Digital Reads Reviews is a blog-haven for book posts and tech tips. This is a book review of contemporary romance.
Bearded, bad-boy barber Knox prefers to live his life the way he takes his coffee:
Alone.
Unless you count his basset hound, Waylon.
Knox doesn't tolerate drama, even when it comes in the form of a stranded runaway bride.
Naomi wasn't just running away from her wedding.
She was riding to the rescue of her estranged twin to Knockemout, Virginia, a rough-around-the-edges town where disputes are settled the old-fashioned way…with fists and beer.
Usually in that order.
Too bad for Naomi her evil twin hasn't changed at all.
After helping herself to Naomi's car and cash, Tina leaves her with something unexpected.
The niece Naomi didn't know she had.
Now she's stuck in town with no car, no job, no plan, and no home with an 11-year-old going on thirty to take care of.
There's a reason Knox doesn't do complications or high-maintenance women, especially not the romantic ones.
But since Naomi's life imploded right in front of him, the least he can do is help her out of her jam.
And just as soon as she stops getting into new trouble he can leave her alone and get back to his peaceful, solitary life.
At least, that's the plan until the trouble turns to real danger.
Two hearts coming together even when they were not each other's type. Things We Never Got Over was bloody explosive, filled with energy and humor, right from the first page.
Naomi was running away from her wedding, leaving the groom at the alter, after the call for help from her twin, Tina. Little did she know that Tina had left the town in devastation after looting nearly everyone. 
But what knocked Naomi out was a vulnerable pre-teen niece that she knew nothing about, and who was now totally dependent on her. But fear not, Knox, the burly barber of the town of Knockemout was here to save her, even from herself, even when she never asked for it. 
The book entranced me completely after the first page. There was a typo about who was holding the cup of coffee. But post that, the book reeled me in hook, line, and sinker. 
Every word compelled me to read the next and the next. There was suspense too added in the story that caused me keeping tapping my kindle screen. 
Dragging their heels to fall in love, finding excuses even when the actions said otherwise, was brilliantly done. 
Added to the main characters were the secondary ones, who made the whole setting a place where I would like to visit and meet them.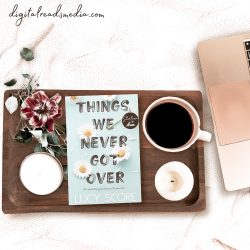 For me, the writing pulled me swiftly into the book where – one more chapter – was the song I was singing till late in the night. There was suspense and thrill weaved into the story that quenched the demands of my thriller-y heart.
The dialogues between the characters were alive; there was an added bite to them that kept the emotions throbbing. It felt real. 
The chemistry between the main characters had all the right zing where I felt the punch of it. I actually felt jealous of them because I wanted  – you could say, craved – such a connection in real life. 
The secondary characters were varied, some of them quirky and some dark, but I loved that the author did give a small vein of goodness or humor to them to bring forth the genre of romance. 
The first chapter had a typo with the coffee cup. Normally I would let it go about who was holding the coffee cup when each page said something different, but since this was my first book by this author, my enthusiasm to read flagged down. 
The book was super-fun from chapter 2 till end. 
A fun romantic caper of two characters I gave my heart wholly to, along with their family members. Looking forward to book 2.
This book has 38k ratings on Amazon and 71k ratings on Goodreads. Never have I seen that so far, a book being liked so much. 
Publication Date: January 2022
I downloaded the digital version of the book from an online retail, and this is my journey down its pages, straight from the heart. STRICTLY HONEST and UNBIASED.
If you've loved the review, buy me a cuppa to perk me up.
Check out my other posts here
Follow my blog Digital Reads Reviews with just a click