Those Empty Eyes by Charlie Donlea
Digital Reads Reviews is a blog-haven for book posts and reviews. This is a review of a suspenseful thriller, This Empty Eyes.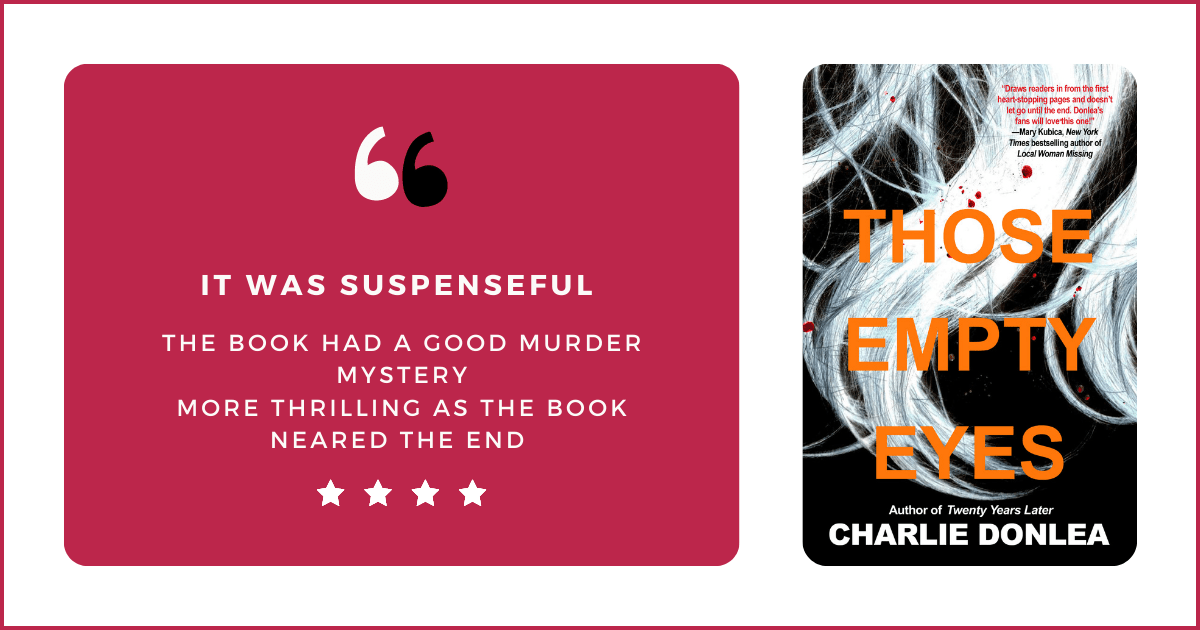 Alex Armstrong has changed everything about herself. She's no longer the terrified teenager a rapt audience saw on television, emerging in handcuffs from the quiet suburban home the night her family was massacred. That girl, Alexandra Quinlan, nicknamed Empty Eyes by the media, was accused of the killings, fought to clear her name, and later took the stand during her highly publicized defamation lawsuit that captured the attention of the nation.
It's been ten years since, and Alex hasn't stopped searching for answers about the night her family was killed, even as she continues to hide her real identity from true crime fanatics and grasping reporters still desperate to locate her. As a legal investigator, she works tirelessly to secure justice for others, too. People like Matthew Claymore, who's under suspicion in the disappearance of his girlfriend, a student journalist named Laura McAllister.

Laura was about to break a major story about rape and cover-ups on her college campus. Alex believes Matthew is innocent, and unearths stunning revelations about the university's faculty, fraternity members, and powerful parents willing to do anything to protect their children.
Most shocking of all—as Alex digs into Laura's disappearance, she realizes there are unexpected connections to the murder of her own family. For as different as the crimes may seem, they each hinge on one sinister truth: no one is quite who they seem to be . .
Those Empty Eyes by Charlie Donlea was a psychological thriller written mainly from the focal point of a lone main character Alex Armstrong who was an investigator in a legal firm. 
But ten years ago, Alex was called Empty Eyes by a lone reporter because of the shock in her eyes when she was wrongly arrested for the murder of her entire family. 
Having been proven innocent, she went ahead and sued the cops and disappeared. Yet the media and podcast reporters worked overtime to try to find out her location, and many were sure she was to blame for her family's death. 
Those Dead Eyes was a standalone that had Alex working hard all these years to get to her parents' killers. But investigating the disappearance of a college student who was going to reveal campus stories about rapes and cover-ups, it made her realize there were connections to her family's deaths. 
Trigger Warnings: Child abuse, pedophilia, murder, graphic revenge.
The compelling hook that kept me going was the motive for Alex's family's murder, including her seven-year-old brother. Only Alex's quick wit saved her. But for the life of me, I didn't know why her parents were killed. So, that was the motive that made me read the book in one day. 
Charlie Donlea's books were hit or miss for me. This one too went all over the place until the last few chapters brought the story back on track. Written from the POV of Alex, the book had a few chapters from others' POVs. 
I had to admit here that I didn't like the title of the book, and even after ten years, those eyes were supposedly empty just to that lone reporter and to no one else. 
I cared enough for Alex to empathize with her, but I didn't know much about her other than how she dressed and how she took her coffee. Beyond work, she didn't have much of a life. 
Other than helping others get justice and wanting to know who her family's killers were, there was nothing else she wanted. And sometimes, I felt that she could have investigated much more than shown to me, because the clues were all present, but she couldn't seem to connect the dots. I wondered why.
This was a thriller, so I didn't have to like any of the characters, just get involved with the plot line, and I rightly got so. 
The plot line became quite obvious right from the very beginning. It was to unmask the identity of the killer, but along with that, the book had a few other murders and the subplot of rapes and cover-ups in a renowned university. 
The book initially went in one direction, then shifted timelines to a decade later to bring about other side stories. There were many other connecting scenes that added to the layers this prose had. Sometimes, they felt like fillers, but overall, I didn't mind them. 
I felt the plotline could have been more cohesive and tighter. Some of the child abuse did get to me, but then I was not well when I read the book, so that could be the reason. 
This was supposed to be a dark thriller with the child abuse written, but barring those sections, the book was quite like a murder mystery. But it had many intervening sections that didn't build the suspense, rather the perp of those subplots was revealed beforehand.
There were a lot of things happening in the book. I wouldn't say it dragged the momentum down, but it did make me wonder where the story was moving.  
The author had added quite a few hooks at apt times to pull me back into the book.
The style of writing - The Prose
As said before, this author's writing didn't pull me into all his books, but in this, it did. The writing had whorls of suspense embedded into its words.
But sometimes, I felt it could have been a tighter thriller rather than a saga of Alex's life story. The podcast style of writing didn't endear me to it. 
Nonetheless, the book came back to its original suspenseful tale, and I enjoyed those sections more. 
The book was a routine murder mystery, and I quite enjoyed it. There were times I was distracted and pulled out of the book. 
But the suspense tightened as the book was nearing its end, and the identity of the killer simply blew me away. The rug was pulled abruptly from below my feet, and I was left shocked, unable to believe what I was reading. 
And not only that, I reached the epilogue and thought I knew everything about the book, but the author had a hidden card in his hand and when he dealt it, I was left gasping. That made the book completely worth the time spent on it. Absolutely brilliant. 
The ending was its most compelling hook because only one thought struck me. How had I missed guessing this killer?
Do I recommend this book?
Yes. Of course. I would recommend the book as it would work well for all thriller readers. Donning the detective hat to guess the perp was an added perk. 
I got the hardcover version of the book from an online retail, and this is my journey down its pages, straight from the heart. STRICTLY HONEST and UNBIASED.
If you've loved the review, buy me a cuppa to perk me up.
Check out my other posts here