Wish Me Home by Kay Brett
Digital Reads Reviews is a blog-haven for book posts and tech tips. This is a review of a women's fiction.
A hungry, stray dog is the last thing Cara Butter needs. Stranded in Georgia with only her backpack and a few dwindling dollars, she already has too much baggage.
Like her twin sister, Hana, who has broken Cara's heart one too many times.
After a lifetime of family troubles, and bouncing from one foster home to another, Cara decides to leave it all behind and strike out alone—on foot.
Cara sets off to Florida to see the home of her literary hero, Ernest Hemingway, accompanied only by Hemi, the stray dog who proves to be the perfect travel companion.
But the harrowing trip takes unexpected turns as strangers become friends who make her question everything, and Cara finds that as the journey unfolds, so does her life—in ways she could never imagine.
Wish Me Home by Kay Brett was an emotional story about learning a new perspective about this world and of course, finding a home. In someone's heart. 
Cara, after being hurt by her twin, needed to make the road trip to Key West to see Ernest Hemingway's home. On her path was a stray dog who was named Hemi by her, who decided to be the perfect companion on this trip. 
The journey was also about getting to know herself and allowing good people to enter her heart. Cara needed to learn that goodness still resided in the people of this Earth.
The first half of this book saw me reading the story with a lump in my throat where my eyes would film over. Emotions steeped into the words wrenched my heart. Caused an instant connection to Cara. 
The bond with her dog made me long for a canine pet and soon. Hemi's friendship with her brought a smile on my face. He was brilliant. All credit to the author to make him so real. 
The second half was more about finding her place in this world, which was good but not as emotional. Hemi too was also lost when too many humans and other dogs made their way on the pages of this book.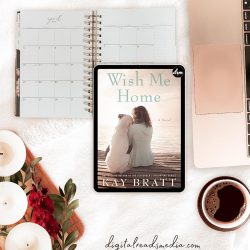 The cover. I picked up this book because of this cover. Tell me that it doesn't make your heart melt. I looked at it and decided I wanted the book and a dog who loved me so much. And on whom I could shower my love. 
The writing of course. It had everything I wanted in a women's fiction. The emotions were bang-on. I couldn't seem to let go of my kindle in the first half of the book. 
Carla was interesting in the way she was so guarded with her feelings having learned life's tough lessons with her twin in childhood in foster care.
Issues like depression and suicide were sensitively written, and they didn't overpower the book in its darkness. 
The second half. It was nice but not as powerful as the first half. I picked up the book more for the dog, and I hated that I didn't get more of her bond with him. The connections with other humans were good, but the power in them was missing. 
There were too many things that came in the second half like getting to know herself, finding love and friendships, getting a job, going into therapy, dealing with her twin's issues, a mystery that got sorted. So it didn't have the depth in the story that I was searching for in this book. 
The book was emotional and interesting, and the cover managed to capture my heart.
I downloaded the digital version of the book from an online retail, and this is my journey down its pages, straight from the heart. STRICTLY HONEST and UNBIASED.
If you've loved the review, buy me a cuppa to perk me up.
Check out my other posts here
Follow my blog Digital Reads Reviews with just a click