The Victim by Gillian Jackson
Digital Reads Reviews is a blog-haven for book posts and tech tips. This is a review of a psychological thriller,
She's killed her husband—and now she must convince the police that she is not the villain but the victim . . .

Caron Rivers appeared to have it all.
Lovely home.
Loving spouse.
Happy marriage.
But behind closed doors, things were not what they seemed.

Why did Caron snap and kill Bill?
Now she finds herself at the police station, facing questions about exactly what happened and what led to the shocking event.
With Bill dead, she is free to tell her story.
But the police may not believe it,
Caron killed her husband. But did that make her a killer or a victim? 
No one knew what went on behind closed doors. Now it was up to the cops to get to the truth. 
Were they missing some truths?
The initial part of it was written in the format of a psychological thriller where there was always a doubt about the truth.
So though I had guessed the truth from the beginning, I was keen to know if I was right. 
The investigation too was interesting. That part felt to be police procedural.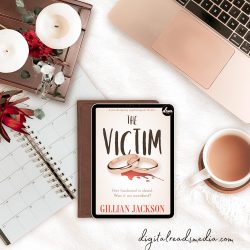 Pockets of writing were good because although formulaic, the book still gave me a feed-good vibe while reading. Kinda thriller-y too. 
The team of cops. They took the story further ahead letting us see what went on behind her doors. I liked their keen sense and instincts.
There was a notable gap between the writing as it suddenly shifted from psychological thriller to a police procedural. Which was not a bad thing if the book had concentrated in letting me know more about Caron. 
The book was named the victim, yet the real victim, the man who died, Bill, I didn't know a thing about him or his relationship with Caron.
But I definitely got to know the details about the personal lives of all the cops. And I kept wondering why they were being personalized for me. 
Interesting in parts, I wished that there was something more juicy in the book which had a good concept. 
I downloaded the digital version of the book from an online retail, and this is my journey down its pages, straight from the heart. STRICTLY HONEST and UNBIASED.
If you've loved the review, buy me a cuppa to perk me up.
Check out my other posts here
Follow my blog Digital Reads Reviews with just a click